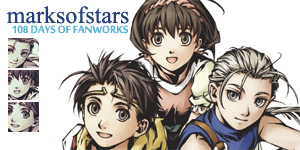 marksofstars

The basic purpose of this community is to get 108 days worth of Suikoden fanworks posted. I created a block of 108 days. Your job is to claim a day (or days) and post any fanwork related to Suikoden on said day(s). Simple as that.

Join us! It'll be super cool if we get a lot of people. Spread the word!

Cross-posting to other comms. Forgive me for f-list flooding.